Miami's first Self-Care Bar.
When Allison Brown began developing the business plan for her new salon, she knew it was going to be more than haircure and manicures.
She envisioned Adore J'adore as a place to take care of your whole self, not just the outside.
"My mom always said, 'If you look good, you'll feel good.' She always told me how important my presence is, that how I show up matters."
Ever since she was a little girl, Allison has loved fashion. At two years old she gave her very first haircut—unfortunately to her mom in the middle of the night in the form of a buzzed head and mohawk. At four, she learned how to braid, and soon everything in the house was braided: curtains, blankets, dolls. She was naturally into beauty but her mom and aunt both helped.
At 19, she opened her first salon in Philadelphia and ran it for two years before deciding to head south for Miami. Building up her clientele was first on the agenda, so she worked in salons from South Beach to Coral Gables, making connections and honing her skills so that no matter who sat in her chair, she could service them.
In 2020, Allison launched out on her own again and started her own salon, Adore J'adore.
She'd had some help launching her business back in Philadelphia, so she started Googling for something similar here in Miami. Through the local Small Business Administration office, she found out about Catalyst Miami's support programs and reached out.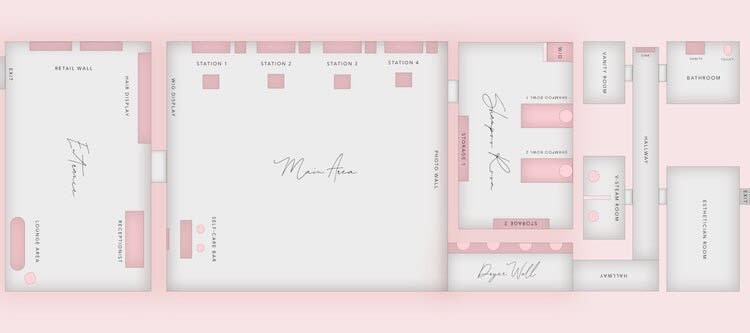 "I had a general business plan, but I wanted that one-on-one accountability. Malcolm was always there to help, and just having someone to take my questions made the whole process easier and faster."
Now Allison is looking to expand to an even bigger location and treat her clients to a holistic, mind-and-body experience.
Dubbing it a "self-care bar," the new storefront will have the traditional hair and nail care offerings, but also skin treatments, detox drinks, and full-body services too. Allison wants the salon to be educational and also offer spiritual solutions like chakra alignment and tarot readings.
"People don't think about what it means when you get your hair done or get your nails done. I want to teach people the importance of self-care and why it matters to take care of yourself. It's about having a different outlook and opening people up to be more intentional."
When Allison first moved here, she was barely making money. It's taken hard work to get this far and it didn't happen overnight, but she believes in herself and has seen the effects. "Your timing is your time—this is a process, but be patient with it because it does work."
In ten years, Allison hopes to have franchised her self-care bar idea and see locations across the United States.