An immigrant and matriarch supporting her family and blazing her own trail.
Marlenny Frometa was a few semesters away from becoming a doctor in the Dominican Republic before she came to the U.S. with her husband.
She was fortunate to arrive in New Jersey to a supportive family, a privilege she feels not many have. Things shortly changed when she and her husband decided to move to Idaho for him to finish school.
Marlenny knew she needed to work, but not speaking the language made it hard to find a job—and there was little to no help that she qualified for as a non-citizen.
Her situation began improving once she started learning English while taking classes through her church.
After her husband graduated, they decided to move from Idaho to Miami to get out of the cold and be closer to family.
Once in South Florida, Marlenny quickly realized how expensive the cost of living was, especially rent and the deposits needed.
Pregnant with a second child, there was a lot of pressure to find a quality home and good job.
Eventually, her husband not only found a job at Catalyst Miami, but Marlenny was also able to receive financial coaching so she could better understand and navigate her family's finances.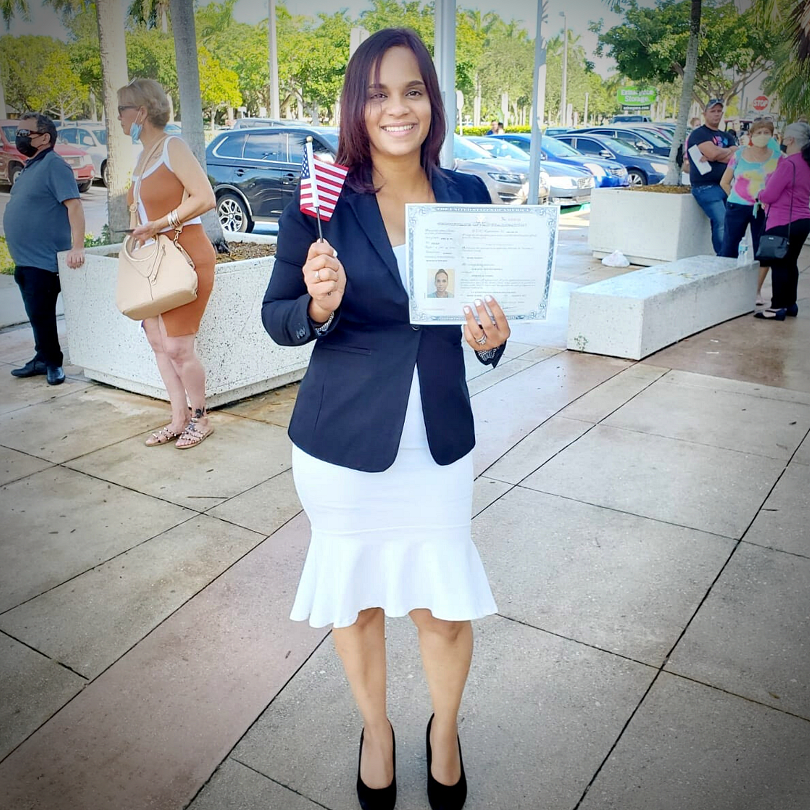 Catalyst Miami connected her with other community resources as well, such as the Office of New Americans of Miami-Dade, where she was able to qualify for a scholarship that allowed a lawyer to support her with her naturalization paperwork.
In August of 2021, Marlenny officially became a U.S. citizen. Here she is pictured in the proud moment.
"I am so thankful for all the kind people in Catalyst Miami. They have treated me like family and always had my best interest at heart. I know they help many people within different communities and I felt that they took time to listen to me and to make things right."
She feels that the little steps Catalyst Miami guided her through helped her achieve her goals and unify her family in an even stronger way.
Marlenny is a testament to the unstoppable spirit and boundless potential of immigrants in Miami-Dade and across the country.